We come to you! Based in Houston and Dallas, Texas Mobile Shrink Wrap specializes in providing onsite mobile shrink wrap services. We travel to all areas of Texas including Amarillo, Midland-Odessa, Brownsville, and even El Paso, Oklahoma, Kansas, Arkansas, Louisiana, Mississippi and Alabama.
"If it doesn't burn, breathe, or melt, We can shrink wrap it!"
Our unique shrink wrapping process maximizes job quality while minimizing project time. Passing the savings in labor on to our customers makes us the most cost-effective choice.
Adding to job quality is our premium shrink wrap which is made of 100% virgin resin materials with maximum UV inhibitors for long-term weather protection and safe transporting.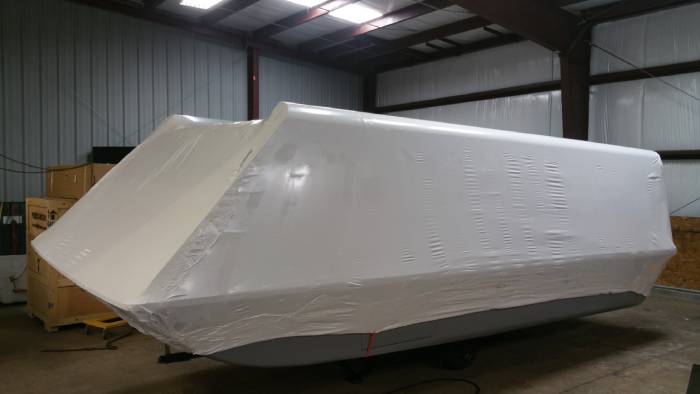 We also offer Fire Retardant (FR), Corrosion Inhibiting (VCI) heat shrink films, and 3-Ply reinforced heat shrink films for specialized requirements and project applications.
If you need lifting lug covers, zipper doors or custom size access panels, Texas Mobile Shrink Wrap can provide those also.
If you prefer to wrap it yourself, we can provide the materials, supplies, and equipment to help complete your project. Contact us for more information. 
Always a better option than tarps, we've made shrink wrapping affordable!
Typically used for pallets or cartons of merchandise and parts, stretch wrap films can be an economical alternative to heat shrink wrapping. 
Depending on the purpose, we use a variety of specialty films that may include UV stretch wrap, vented pallet wrap, anti-static stretch film, colored stretch film, blackout stretch wrap, and other films. The bottom-line is we do it right, we do it quickly, and we do it cost-effectively.
We even provide rental equipment for stretch wrap installation if you prefer to do it yourself.  Contact us for more information.
Weather, road debris, human factors and a number of things can create damage to your shrink wrapped cargo. We offer roadside service to help make sure that whatever you're hauling stays protected!
Specialty Services and Sales
Texas Mobile Shrink Wrap has specialized equipment to provide unique heat shrink services. We manufacture zipper access covers and velcro doors, thermoformed pipe and flange caps up-to 28 inches diameter, pallet bags and slip on covers using heat seam welding machines and forming equipment. 
We can even heat shrink wrap small packages, cases of beverages, perfume and cosmetic products, and almost anything else. Whether it is 1 item or 10,000 items we can accommodate your shrink wrapping needs.
We also sell desiccants, zipper doors, heat shrink films, stretch wrap films, specialty tapes, tools and supplies. 
Please call us for more information or visit Texas Shrink Wrap at Amazon.com